THE UN
[av_section min_height=" min_height_pc='25' min_height_px='500px' padding='large' custom_margin='20px' custom_margin_sync='true' color='main_color' background='bg_color' custom_bg=" background_gradient_color1=" background_gradient_color2=" background_gradient_direction='vertical' src='https://coadf.com/wp-content/uploads/2020/09/slider-6-1500×430-1-1500×430.jpg' attachment='486′ attachment_size='featured' attach='scroll' position='top center' repeat='no-repeat' video=" video_ratio='16:9′ overlay_enable='aviaTBoverlay_enable' overlay_opacity='0.5′ overlay_color='#000000′ overlay_pattern=" overlay_custom_pattern=" shadow='no-border-styling' bottom_border='no-border-styling' bottom_border_diagonal_color='#333333′ bottom_border_diagonal_direction=" bottom_border_style=" custom_arrow_bg=" id=" custom_class=" aria_label=" av_element_hidden_in_editor='0′ av_uid='av-kei4ztt6′]
[av_heading heading='THE UN' tag='h3′ style='blockquote modern-quote modern-centered' subheading_active=" show_icon=" icon='ue800′ font=" size='47' av-medium-font-size-title=" av-small-font-size-title=" av-mini-font-size-title=" subheading_size=" av-medium-font-size=" av-small-font-size=" av-mini-font-size=" icon_size=" av-medium-font-size-1=" av-small-font-size-1=" av-mini-font-size-1=" color='custom-color-heading' custom_font='#ffffff' icon_color=" margin=" margin_sync='true' padding='10' icon_padding='10' link=" link_target=" id=" custom_class=" av_uid='av-kfh04tkt' admin_preview_bg="][/av_heading]
[/av_section]
[av_layout_row border=" min_height_percent=" min_height_pc='25' min_height='0′ color='main_color' mobile='av-flex-cells' mobile_breaking=" av-desktop-hide=" av-medium-hide=" av-small-hide=" av-mini-hide=" id=" custom_class=" aria_label=" av_element_hidden_in_editor='0′ av_uid='av-4vy4i']
[av_cell_one_half vertical_align='top' padding='30px,30px,30px,120px' background='bg_color' background_color=" background_gradient_color1=" background_gradient_color2=" background_gradient_direction='vertical' src=" attachment=" attachment_size=" background_attachment='scroll' background_position='top left' background_repeat='no-repeat' link=" linktarget=" link_hover=" mobile_display=" custom_class=" av_uid='av-4fnuy']
[av_hr class='short' icon_select='yes' icon='ue808′ font='entypo-fontello' position='left' shadow='no-shadow' height='50' custom_border='av-border-thin' custom_width='50px' custom_margin_top='30px' custom_margin_bottom='30px' custom_border_color=" custom_icon_color=" id=" custom_class=" av_uid='av-2yia2′ admin_preview_bg="]
[av_textblock size='16' av-medium-font-size=" av-small-font-size=" av-mini-font-size=" font_color=" color=" id=" custom_class=" av_uid='av-28i3a' admin_preview_bg="]
The Office of the Special Adviser on Africa (OSAA) was officially established on 1 March 2003 by the Secretary-General Bulletin (ST/SGB/2003/6) , in line with General Assembly Resolution A/RES/57/7  of 4 November 2002 and became operational on 1 May 2003. OSAA's role was subsequently expanded in resolution 66/293  adopted by the General Assembly on 15 October 2012, which mandated the Office to establish a monitoring mechanism to review commitments made towards Africa's development.
http://www.unmultimedia.org/avlibrary/asset/1735/1735931/
Above is at the High-level event on "Strengthening Partnerships for Inclusive Sustainable Development, Good Governance, Peace and Stability in Africa", on the occasion of Africa Week. Queen Mother is at 2Hr 32 Min
In accordance with the above resolution, OSAA was initially mandated to:
In implementation of its mandate, OSAA:
supports the General Assembly and the Economic and Social Council in their deliberations on Africa;
coordinates and guide the preparation of Africa-related reports and inputs, in particular support forNEPAD by the United Nations System and the international community, including the private sector andcivil society;
coordinates the Interdepartmental Task Force on African Affairs (IDTFA), to ensure a coherent and integrated approach for United Nations support for Africa, including following up on the implementation of all global summit and conference outcomes related to Africa;
initiates reports on critical issues affecting Africa, and in particular on the interrelated issues of peace and development;
coordinates global advocacy in support of NEPAD, and;
acts as the focal point for NEPAD within the United Nations Secretariat at Headquarters.
Mr. Maged Abdelfatah Abdelaziz, Current Under-Secretary-General and Special Adviser on Africa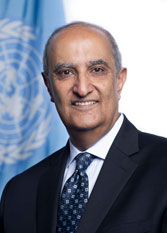 Under-Secretary-General Abdelaziz was appointed by the Secretary-General by United Nations Secretary-General, Ban Ki-moon, on  8 March 2012, and took up office on Thursday 17 May  of the same year. He brings to the position more than 33 years of experience in multilateral diplomacy, a direct engagement in promoting global peace, security and development.
Prior to his appointment, Mr. Abdelaziz  had been serving as Permanent Representative of Egypt to the United Nations in New York, since 2005.  In that capacity, he co-chaired in 2008 the Review Conference on Financing for Development and, in 2009, he was the Rapporteur, representing Africa, at the Conference on the Economic and Financial Crisis and Its Impact on Development.
Having served as Vice President of the Economic and Social Council (2011-12) and Vice President of the United Nations General Assembly (2008-2009), Mr. Abdelaziz enjoys an intimate knowledge of the UN intergovernmental processes and multilateral diplomacy. Pursuant to General Assembly Resolution 65/289 to consider rates of reimbursement to troop contributing countries and related issues, he also served as a member of the Secretary-General's Senior Advisory Group. As Chair of the Coordinating Bureau of the Non-Aligned Movement since 2009, he chaired the High Officials' meeting of the 15th Summit of the Non-Aligned Movement (NAM) held in Sharm El Sheik (Egypt) in July 2009.
As Deputy Permanent Representative of Egypt to the United Nations (1997-99) he was the principal officer in charge of all the questions relating to disarmament. During that period, he served as the Chair of the United Nations Disarmament Commission which negotiated and adopted the United Nations guidelines for the establishment of Nuclear Weapons-free Zones. He was a member of the Egyptian delegation to the Security Council during Egypt's membership of the council in (1984-85) and (1995-97).
Mr. Abdelaziz played a leading role in the establishment of the Human Rights Council and the Peace-Building Commission as well as the elaboration and adoption of the United Nations Global Counter Terrorism Strategy. He also played an active role in enhancing the United Nations' role in development, with particular emphasis on the achievement of the internationally agreed development goals, including the Millennium Development Goals (MDGs) and enhancing the global response to the special needs of Africa, the Least Developed Countries and the Small Islands Developing States.
His focus was on revitalizing the entire agenda relating to the special needs of Africa, including through implementation of the New Partnership for Africa's Development (NEPAD) to which the Secretary-General attaches the highest priority.
Mr. Abdelaziz graduated from the Ain Shams University School of Law in 1973. He is married and father of one daughter.
[/av_textblock]
[/av_cell_one_half][av_cell_one_half av_uid='av-1odee']
[av_gallery ids='690′ style='big_thumb' preview_size='large' crop_big_preview_thumbnail='avia-gallery-big-crop-thumb' thumb_size='portfolio' columns='3′ imagelink='avianolink noLightbox' link_dest=" lazyload='avia_lazyload' html_lazy_loading='disabled' alb_description=" id=" custom_class=" av_uid='av-kei5wsoh' admin_preview_bg="]
[av_one_full first min_height=" vertical_alignment=" space=" row_boxshadow=" row_boxshadow_color=" row_boxshadow_width='10' custom_margin=" margin='0px' mobile_breaking=" border=" border_color=" radius='0px' padding='0px' column_boxshadow=" column_boxshadow_color=" column_boxshadow_width='10' background='bg_color' background_color=" background_gradient_color1=" background_gradient_color2=" background_gradient_direction='vertical' src=" background_position='top left' background_repeat='no-repeat' highlight=" highlight_size=" animation=" link=" linktarget=" link_hover=" title_attr=" alt_attr=" mobile_display=" id=" custom_class=" aria_label=" av_uid='av-b8i9c']
[av_textblock size=" av-medium-font-size=" av-small-font-size=" av-mini-font-size=" font_color=" color=" id=" custom_class=" av_uid='av-kfh09gqx' admin_preview_bg="]
Established by the Economic and Social Council (ECOSOC) of the United Nations (UN) in 1958 as one of the UN's five regional commissions, ECA's mandate is to promote the economic and social development of its member States, foster intra-regional integration, and promote international cooperation for Africa's development.
Made up of 54 member States, and playing a dual role as a regional arm of the UN and as a key component of the African institutional landscape, ECA is well positioned to make unique contributions to address the Continent's development challenges.
ECA's strength derives from its role as the only UN agency mandated to operate at the regional and subregional levels to harness resources and bring them to bear on Africa's priorities. To enhance its impact, ECA places a special focus on collecting up to date and original regional statistics in order to ground its policy research and advocacy on clear objective evidence; promoting policy consensus; providing meaningful capacity development; and providing advisory services in key thematic fields.
ECA's thematic areas of focus are as follows:
ECA also provides technical advisory services to African governments, intergovernmental organizations and institutions. In addition, it formulates and promotes development assistance programmes and acts as the executing agency for relevant operational projects.
Specialized regional advisory services and meaningful capacity development support to member States is provided in the following priority areas:
Promotion of industrialization
Design and implementation of macroeconomic policy
Design and articulation of development planning
Supporting mineral resources contract negotiations
Promoting the proper management of natural resources for Africa's transformation
ECA is headed by an  Executive Secretary, who is assisted by two Deputy Executive Secretaries. Its work programme is supported by two pillars: knowledge generation and knowledge delivery. There are five substantive divisions responsible for policy research: Macroeconomic Policy, Regional Integration & Trade, Social Policy Development, Special Initiatives, and the African Centre for Statistics. The Capacity Development Division, IDEP (ECA's training arm), the Division of Administration and ECA's Subregional Offices in Rabat, Niamey, Yaounde, Kigali and Lusaka comprise the knowledge delivery pillar. Knowledge generation and knowledge delivery at the ECA are underpinned by the Strategic Planning & Operational Quality Division and the Public Information and Knowledge Management Division. The ECA Partnerships Office and the Joint Secretariat Support Office of the ECA, African Union Commission and African Development Bank complement the work of the substantive divisions.
ECA's policy work aims to shape Africa's transformation by supporting a growth path which addresses the vulnerabilities that impact on people's lives.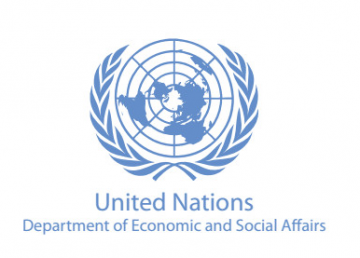 The United Nations Department of Economic and Social Affairs (UN DESA) is part of the United Nations Secretariat and is responsible for the follow-up to the major United Nations Summits and Conferences, as well as services to the United Nations Economic and Social Council and the Second and Third Committees of the United Nations General Assembly.
UN DESA assists countries around the world in agenda-setting and decision-making with the goal of meeting their economic, social and environmental challenges. It promotes and supports international cooperation to promote development for all. In providing a broad range of analytical products, policy advice, and technical assistance, UN DESA effectively translates global commitments in the economic, social and environmental spheres into national policies and actions and continues to play a key role in monitoring progress towards internationally agreed-upon development goals.
Due to the importance the United Nations attaches to economic and social affairs, the Department contains several important Divisions. These include the Development Policy Division, the Financing for Development Office, the Division for Sustainable Development, the Division for Social Development, the Division for Public Administration, the Statistics Division, and the Population Division. It is also a member of the United Nations Development Group.
UN DESA works in three main interlinked areas:
it compiles, generates and analyzes a wide range of economic, social and environmental data and information on which States Members of the United Nations draw to review common problems and to take stock of policy options;
it facilitates the negotiations of Member States in many intergovernmental bodies on joint courses of action to address ongoing or emerging global challenges;
it advises interested Governments on the ways and means of translating policy frameworks developed in United Nations conferences and summits into programmes at the country level and, through technical assistance, helps build national capacities.
In 2002, due to the increased burden of servicing an increasing number of conferences including the Millennium Declaration, the Department was expanded and gained a new office of an Assistant Secretary-General. UNDESA is headquartered in New York, but has an important secondary office in Rome (Italy), managing the coordination of Italian Fellowship and JPO Programmes.
Archives
[/av_textblock]
[/av_one_full][/av_cell_one_half]
[/av_layout_row]
[av_layout_row border=" min_height_percent=" min_height_pc='25' min_height='0′ color='main_color' mobile='av-flex-cells' mobile_breaking=" av-desktop-hide=" av-medium-hide=" av-small-hide=" av-mini-hide=" id=" custom_class=" aria_label=" av_element_hidden_in_editor='0′ av_uid='av-4vy4i']
[av_cell_one_half vertical_align='top' padding='30px,30px,30px,120px' background='bg_color' background_color=" background_gradient_color1=" background_gradient_color2=" background_gradient_direction='vertical' src=" attachment=" attachment_size=" background_attachment='scroll' background_position='top left' background_repeat='no-repeat' link=" linktarget=" link_hover=" mobile_display=" custom_class=" av_uid='av-4fnuy']
[av_hr class='invisible' icon_select='yes' icon='ue808′ font='entypo-fontello' position='center' shadow='no-shadow' height='10' custom_border='av-border-thin' custom_width='50px' custom_margin_top='30px' custom_margin_bottom='30px' custom_border_color=" custom_icon_color=" id=" custom_class=" av_uid='av-3tjsm' admin_preview_bg="]
[av_heading heading='Whereby:-' tag='h3′ style='blockquote modern-quote' subheading_active='subheading_above' show_icon=" icon='ue800′ font=" size='40' av-medium-font-size-title=" av-small-font-size-title=" av-mini-font-size-title=" subheading_size=" av-medium-font-size=" av-small-font-size=" av-mini-font-size=" icon_size=" av-medium-font-size-1=" av-small-font-size-1=" av-mini-font-size-1=" color='custom-color-heading' custom_font='#0058aa' icon_color=" margin=" margin_sync='true' padding='10' icon_padding='10' link=" link_target=" id=" custom_class=" av_uid='av-kfv1guv7′ admin_preview_bg="]
Whitehall's
[/av_heading]
[av_hr class='short' icon_select='yes' icon='ue808′ font='entypo-fontello' position='left' shadow='no-shadow' height='50' custom_border='av-border-thin' custom_width='50px' custom_margin_top='30px' custom_margin_bottom='30px' custom_border_color=" custom_icon_color=" id=" custom_class=" av_uid='av-2yia2′ admin_preview_bg="]
[av_textblock size='16' av-medium-font-size=" av-small-font-size=" av-mini-font-size=" font_color=" color=" id=" custom_class=" av_uid='av-28i3a' admin_preview_bg="][/av_textblock]
[/av_cell_one_half][av_cell_one_half av_uid='av-1odee']
[av_gallery ids='227,226,225′ style='big_thumb' preview_size='large' crop_big_preview_thumbnail='avia-gallery-big-crop-thumb' thumb_size='portfolio' columns='3′ imagelink='avianolink noLightbox' link_dest=" lazyload='avia_lazyload' html_lazy_loading='disabled' alb_description=" id=" custom_class=" av_uid='av-kei5wsoh' admin_preview_bg="]
[/av_cell_one_half][/av_layout_row][av_section min_height=" min_height_pc='25' min_height_px='500px' padding='small' custom_margin='0px' custom_margin_sync='true' color='main_color' background='bg_color' custom_bg=" background_gradient_color1=" background_gradient_color2=" background_gradient_direction='vertical' src='https://web.golive.space/wp-content/uploads/2020/08/easy_slider_6.jpg' attachment='159′ attachment_size='full' attach='scroll' position='center center' repeat='stretch' video=" video_ratio='16:9′ overlay_enable='aviaTBoverlay_enable' overlay_opacity='0.8′ overlay_color='#000000′ overlay_pattern=" overlay_custom_pattern=" shadow='no-border-styling' bottom_border='no-border-styling' bottom_border_diagonal_color='#333333′ bottom_border_diagonal_direction=" bottom_border_style=" custom_arrow_bg=" id=" custom_class=" aria_label=" av_element_hidden_in_editor='1′ av_uid='av-kei6qq29′]
[av_hr class='invisible' icon_select='yes' icon='ue810′ font='entypo-fontello' position='center' shadow='no-shadow' height='10' custom_border='av-border-thin' custom_width='250px' custom_margin_top='10px' custom_margin_bottom='50px' custom_border_color='#ffffff' custom_icon_color='#ffffff' id=" custom_class=" av_uid='av-2bxmi' admin_preview_bg="]
[av_heading heading='How Does The WHITEHALL'S COVID-19
Clean System Work?' tag='h3′ link=" link_target=" style='blockquote modern-quote modern-centered' size='40' subheading_active=" subheading_size=" margin=" padding='10' icon_padding='10' color='custom-color-heading' custom_font='#ffffff' icon_color=" show_icon=" icon='ue800′ font=" icon_size=" custom_class=" id=" admin_preview_bg=" av-desktop-hide=" av-medium-hide=" av-small-hide=" av-mini-hide=" av-medium-font-size-title=" av-small-font-size-title=" av-mini-font-size-title=" av-medium-font-size=" av-small-font-size=" av-mini-font-size=" av-medium-font-size-1=" av-small-font-size-1=" av-mini-font-size-1=" av_uid='av-o3ou'][/av_heading]
[av_hr class='custom' icon_select='yes' icon='ue810′ font='entypo-fontello' position='center' shadow='no-shadow' height='50' custom_border='av-border-thin' custom_width='250px' custom_margin_top='10px' custom_margin_bottom='50px' custom_border_color='#ffffff' custom_icon_color='#ffffff' id=" custom_class=" av_uid='av-2bxmi' admin_preview_bg="]
[av_one_third first min_height=" vertical_alignment=" space=" row_boxshadow=" row_boxshadow_color=" row_boxshadow_width='10' custom_margin=" margin='0px' mobile_breaking=" border=" border_color=" radius='0px' padding='0px' column_boxshadow=" column_boxshadow_color=" column_boxshadow_width='10' background='bg_color' background_color=" background_gradient_color1=" background_gradient_color2=" background_gradient_direction='vertical' src=" background_position='top left' background_repeat='no-repeat' highlight=" highlight_size=" animation=" link=" linktarget=" link_hover=" title_attr=" alt_attr=" mobile_display=" id=" custom_class=" aria_label=" av_uid='av-of16′]
[av_font_icon icon='ue891′ font='entypo-fontello' style='border' caption='STEP 1:
DISINFECTION' size='20px' position='center' color='#ffffff' link=" linktarget=" animation=" id=" custom_class=" av_uid='av-keidtbj9′ admin_preview_bg="][/av_font_icon]
[av_textblock size='17' av-medium-font-size=" av-small-font-size=" av-mini-font-size=" font_color='custom' color='#ffffff' id=" custom_class=" av_uid='av-keiduflm' admin_preview_bg="]
Disinfect, clean, sanitize and deodorize premises
[/av_textblock]
[/av_one_third][av_one_third min_height=" vertical_alignment=" space=" row_boxshadow=" row_boxshadow_color=" row_boxshadow_width='10' custom_margin=" margin='0px' mobile_breaking=" border=" border_color=" radius='0px' padding='0px' column_boxshadow=" column_boxshadow_color=" column_boxshadow_width='10' background='bg_color' background_color=" background_gradient_color1=" background_gradient_color2=" background_gradient_direction='vertical' src=" background_position='top left' background_repeat='no-repeat' highlight=" highlight_size=" animation=" link=" linktarget=" link_hover=" title_attr=" alt_attr=" mobile_display=" id=" custom_class=" aria_label=" av_uid='av-of16′]
[av_font_icon icon='ue891′ font='entypo-fontello' style='border' caption='STEP 2:
PROTECTION' size='20px' position='center' color='#ffffff' link=" linktarget=" animation=" id=" custom_class=" av_uid='av-keidtbj9′ admin_preview_bg="][/av_font_icon]
[av_textblock size='17' av-medium-font-size=" av-small-font-size=" av-mini-font-size=" font_color='custom' color='#ffffff' id=" custom_class=" av_uid='av-keiduflm' admin_preview_bg="]
After surfaces are thoroughly cleaned & disinfected, apply antimicrobial protection
[/av_textblock]
[/av_one_third][av_one_third min_height=" vertical_alignment=" space=" row_boxshadow=" row_boxshadow_color=" row_boxshadow_width='10' custom_margin=" margin='0px' mobile_breaking=" border=" border_color=" radius='0px' padding='0px' column_boxshadow=" column_boxshadow_color=" column_boxshadow_width='10' background='bg_color' background_color=" background_gradient_color1=" background_gradient_color2=" background_gradient_direction='vertical' src=" background_position='top left' background_repeat='no-repeat' highlight=" highlight_size=" animation=" link=" linktarget=" link_hover=" title_attr=" alt_attr=" mobile_display=" id=" custom_class=" aria_label=" av_uid='av-of16′]
[av_font_icon icon='ue891′ font='entypo-fontello' style='border' caption='STEP 3:
CERTIFY' size='20px' position='center' color='#ffffff' link=" linktarget=" animation=" id=" custom_class=" av_uid='av-keidtbj9′ admin_preview_bg="][/av_font_icon]
[av_textblock size='17' av-medium-font-size=" av-small-font-size=" av-mini-font-size=" font_color='custom' color='#ffffff' id=" custom_class=" av_uid='av-keiduflm' admin_preview_bg="]
This certification will let others know that the property/facility has been cleaned with the most reliable technology on the market
[/av_textblock]
[/av_one_third][av_hr class='invisible' icon_select='yes' icon='ue810′ font='entypo-fontello' position='center' shadow='no-shadow' height='30' custom_border='av-border-thin' custom_width='250px' custom_margin_top='5px' custom_margin_bottom='10px' custom_border_color='#ffffff' custom_icon_color='#ffffff' id=" custom_class=" av_uid='av-2bxmi' admin_preview_bg="]
[/av_section]
[av_layout_row border=" min_height_percent=" min_height_pc='25' min_height='0′ color='main_color' mobile='av-flex-cells' mobile_breaking=" av-desktop-hide=" av-medium-hide=" av-small-hide=" av-mini-hide=" id=" custom_class=" aria_label=" av_element_hidden_in_editor='1′ av_uid='av-20pm2′]
[av_cell_one_half vertical_align='top' padding='30px' padding_sync='true' background='bg_color' background_color=" background_gradient_color1=" background_gradient_color2=" background_gradient_direction='vertical' src='https://web.golive.space/wp-content/uploads/2020/08/easy_slider_6-495×400.jpg' attachment='159′ attachment_size='portfolio' background_attachment='scroll' background_position='top left' background_repeat='stretch' link=" linktarget=" link_hover=" mobile_display=" custom_class=" av_uid='av-keil4rob']
[/av_cell_one_half][av_cell_one_half vertical_align='top' padding='30px,50px,30px,70px' background='bg_color' background_color=" background_gradient_color1=" background_gradient_color2=" background_gradient_direction='vertical' src=" attachment=" attachment_size=" background_attachment='scroll' background_position='top left' background_repeat='no-repeat' link=" linktarget=" link_hover=" mobile_display=" custom_class=" av_uid='av-1avd6′]
[av_hr class='invisible' icon_select='yes' icon='ue808′ font='entypo-fontello' position='left' shadow='no-shadow' height='50' custom_border='av-border-thin' custom_width='50px' custom_margin_top='30px' custom_margin_bottom='30px' custom_border_color=" custom_icon_color=" id=" custom_class=" av_uid='av-keil2su4′ admin_preview_bg="]
[av_one_full first min_height=" vertical_alignment=" space=" row_boxshadow=" row_boxshadow_color=" row_boxshadow_width='10' custom_margin=" margin='0px' mobile_breaking=" border=" border_color=" radius='0px' padding='0px' column_boxshadow=" column_boxshadow_color=" column_boxshadow_width='10' background='bg_color' background_color=" background_gradient_color1=" background_gradient_color2=" background_gradient_direction='vertical' src=" background_position='top left' background_repeat='no-repeat' highlight=" highlight_size=" animation=" link=" linktarget=" link_hover=" title_attr=" alt_attr=" mobile_display=" id=" custom_class=" aria_label=" av_uid='av-2sem']
[av_heading heading='Covid-19 Disinfection Services ' tag='h3′ link=" link_target=" style='blockquote modern-quote' size='36' subheading_active=" subheading_size=" margin=" padding='10' icon_padding='10' color='custom-color-heading' custom_font='#0058aa' icon_color=" show_icon=" icon='ue800′ font=" icon_size=" custom_class=" id=" admin_preview_bg=" av-desktop-hide=" av-medium-hide=" av-small-hide=" av-mini-hide=" av-medium-font-size-title=" av-small-font-size-title=" av-mini-font-size-title=" av-medium-font-size=" av-small-font-size=" av-mini-font-size=" av-medium-font-size-1=" av-small-font-size-1=" av-mini-font-size-1=" av_uid='av-ou8e'][/av_heading]
[av_hr class='short' icon_select='yes' icon='ue808′ font='entypo-fontello' position='left' shadow='no-shadow' height='50' custom_border='av-border-thin' custom_width='50px' custom_margin_top='30px' custom_margin_bottom='30px' custom_border_color=" custom_icon_color=" id=" custom_class=" av_uid='av-keil2su4′ admin_preview_bg="]
[av_textblock size='17' av-medium-font-size=" av-small-font-size=" av-mini-font-size=" font_color=" color=" id=" custom_class=" av_uid='av-keil3qdn' admin_preview_bg="]
Our commitment to excellent service, our Covid-19 Cleaning and Disinfecting Services includes but not limited to the following:
Disinfecting Services
Sanitizing Services
Deep Clean/Impact Cleans
High Touch Point Area focus
Color-coded microfibers
[/av_textblock]
[/av_one_full][/av_cell_one_half]
[/av_layout_row]
[av_section min_height=" min_height_pc='25' min_height_px='500px' padding='default' custom_margin='0px' custom_margin_sync='true' color='main_color' background='bg_color' custom_bg='#0058aa' background_gradient_color1=" background_gradient_color2=" background_gradient_direction='vertical' src='https://web.golive.space/wp-content/uploads/2020/08/transparent-parralax-1500×430.png' attachment='146′ attachment_size='featured' attach='scroll' position='top left' repeat='no-repeat' video=" video_ratio='16:9′ overlay_opacity='0.5′ overlay_color=" overlay_pattern=" overlay_custom_pattern=" shadow='no-border-styling' bottom_border='no-border-styling' bottom_border_diagonal_color='#333333′ bottom_border_diagonal_direction=" bottom_border_style=" custom_arrow_bg=" id=" custom_class=" aria_label=" av_element_hidden_in_editor='0′ av_uid='av-2dfhe']
[av_two_third first min_height=" vertical_alignment=" space=" row_boxshadow=" row_boxshadow_color=" row_boxshadow_width='10' custom_margin=" margin='0px' mobile_breaking=" border=" border_color=" radius='0px' padding='0px' column_boxshadow=" column_boxshadow_color=" column_boxshadow_width='10' background='bg_color' background_color=" background_gradient_color1=" background_gradient_color2=" background_gradient_direction='vertical' src=" background_position='top left' background_repeat='no-repeat' highlight=" highlight_size=" animation=" link=" linktarget=" link_hover=" title_attr=" alt_attr=" mobile_display=" id=" custom_class=" aria_label=" av_uid='av-1owou']
[av_heading heading='Remember, your facility and environment is not clean until it is WHITEHALL'S CLEAN!' tag='h3′ link=" link_target=" style='blockquote modern-quote' size='36' subheading_active=" subheading_size=" margin=" padding='10' icon_padding='10' color='custom-color-heading' custom_font='#ffffff' icon_color=" show_icon=" icon='ue800′ font=" icon_size=" custom_class=" id=" admin_preview_bg=" av-desktop-hide=" av-medium-hide=" av-small-hide=" av-mini-hide=" av-medium-font-size-title=" av-small-font-size-title=" av-mini-font-size-title=" av-medium-font-size=" av-small-font-size=" av-mini-font-size=" av-medium-font-size-1=" av-small-font-size-1=" av-mini-font-size-1=" av_uid='av-o8s6′][/av_heading]
[/av_two_third][av_one_third min_height=" vertical_alignment=" space=" row_boxshadow=" row_boxshadow_color=" row_boxshadow_width='10' custom_margin=" margin='0px' mobile_breaking=" border=" border_color=" radius='0px' padding='0px' column_boxshadow=" column_boxshadow_color=" column_boxshadow_width='10' background='bg_color' background_color=" background_gradient_color1=" background_gradient_color2=" background_gradient_direction='vertical' src=" background_position='top left' background_repeat='no-repeat' highlight=" highlight_size=" animation=" link=" linktarget=" link_hover=" title_attr=" alt_attr=" mobile_display=" id=" custom_class=" aria_label=" av_uid='av-14ltq']
[av_button label='Contact us today!' icon_select='yes-right-icon' icon='ue885′ font='entypo-fontello' link='page,35′ link_target=" size='x-large' position='center' label_display=" title_attr=" color_options=" color='theme-color-subtle' custom_bg='#444444′ custom_font='#ffffff' btn_color_bg='theme-color' btn_custom_bg='#444444′ btn_color_bg_hover='theme-color-highlight' btn_custom_bg_hover='#444444′ btn_color_font='theme-color' btn_custom_font='#ffffff' id=" custom_class=" av_uid='av-keilu912′ admin_preview_bg="]
[/av_one_third]
[/av_section]