Post-Cold War
[av_section min_height=" min_height_pc='25' min_height_px='500px' padding='large' custom_margin='20px' custom_margin_sync='true' color='main_color' background='bg_color' custom_bg=" background_gradient_color1=" background_gradient_color2=" background_gradient_direction='vertical' src='https://coadf.com/wp-content/uploads/2020/09/slider-6-1500×430-1-1500×430.jpg' attachment='486′ attachment_size='featured' attach='scroll' position='top center' repeat='no-repeat' video=" video_ratio='16:9′ overlay_enable='aviaTBoverlay_enable' overlay_opacity='0.5′ overlay_color='#000000′ overlay_pattern=" overlay_custom_pattern=" shadow='no-border-styling' bottom_border='no-border-styling' bottom_border_diagonal_color='#333333′ bottom_border_diagonal_direction=" bottom_border_style=" custom_arrow_bg=" id=" custom_class=" aria_label=" av_element_hidden_in_editor='0′ av_uid='av-kei4ztt6′]
[av_heading heading='Post-Cold War' tag='h3′ style='blockquote modern-quote modern-centered' subheading_active=" show_icon=" icon='ue800′ font=" size='47' av-medium-font-size-title=" av-small-font-size-title=" av-mini-font-size-title=" subheading_size=" av-medium-font-size=" av-small-font-size=" av-mini-font-size=" icon_size=" av-medium-font-size-1=" av-small-font-size-1=" av-mini-font-size-1=" color='custom-color-heading' custom_font='#ffffff' icon_color=" margin=" margin_sync='true' padding='10' icon_padding='10' link=" link_target=" id=" custom_class=" av_uid='av-kfhvxyvf' admin_preview_bg="][/av_heading]
[/av_section][av_layout_row border=" min_height_percent=" min_height_pc='25' min_height='0′ color='main_color' mobile='av-flex-cells' mobile_breaking=" av-desktop-hide=" av-medium-hide=" av-small-hide=" av-mini-hide=" id=" custom_class=" aria_label=" av_element_hidden_in_editor='0′ av_uid='av-4vy4i']
[av_cell_one_half vertical_align='top' padding='30px,30px,30px,120px' background='bg_color' background_color=" background_gradient_color1=" background_gradient_color2=" background_gradient_direction='vertical' src=" attachment=" attachment_size=" background_attachment='scroll' background_position='top left' background_repeat='no-repeat' link=" linktarget=" link_hover=" mobile_display=" custom_class=" av_uid='av-4fnuy']
[av_textblock size='16' av-medium-font-size=" av-small-font-size=" av-mini-font-size=" font_color=" color=" id=" custom_class=" av_uid='av-28i3a' admin_preview_bg="]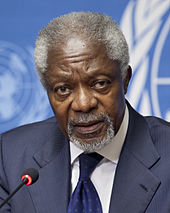 Kofi Annan, Secretary-General from 1997 to 2006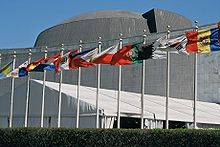 Flags of member nations at the United Nations Headquarters, seen in 2007
After the Cold War, the UN saw a radical expansion in its peacekeeping duties, taking on more missions in five years than it had in the previous four decades.[49] Between 1988 and 2000, the number of adopted Security Council resolutions more than doubled, and the peacekeeping budget increased more than tenfold. The UN negotiated an end to the Salvadoran Civil War, launched a successful peacekeeping mission in Namibia, and oversaw democratic elections in post-apartheid South Africa and post-Khmer Rouge Cambodia.[53] In 1991, the UN authorized a US-led coalition that repulsed the Iraqi invasion of Kuwait. Brian Urquhart, Under-Secretary-General from 1971 to 1985, later described the hopes raised by these successes as a "false renaissance" for the organization, given the more troubled missions that followed.
Though the UN Charter had been written primarily to prevent aggression by one nation against another, in the early 1990s the UN faced a number of simultaneous, serious crises within nations such as Somalia, Haiti, Mozambique, and the former Yugoslavia. The UN mission in Somalia was widely viewed as a failure after the US withdrawal following casualties in the Battle of Mogadishu, and the UN mission to Bosnia faced "worldwide ridicule" for its indecisive and confused mission in the face of ethnic cleansing. In 1994, the UN Assistance Mission for Rwanda failed to intervene in the Rwandan genocide amid indecision in the Security Council.[58]
Beginning in the last decades of the Cold War, American and European critics of the UN condemned the organization for perceived mismanagement and corruption.[59] In 1984, US President Ronald Reagan, withdrew his nation's funding from United Nations Educational, Scientific and Cultural Organization (UNESCO) over allegations of mismanagement, followed by the UK and Singapore.[60][61] Boutros Boutros-Ghali, Secretary-General from 1992 to 1996, initiated a reform of the Secretariat, reducing the size of the organization somewhat. His successor, Kofi Annan (1997–2006), initiated further management reforms in the face of threats from the US to withhold its UN dues.
From the late 1990s to the early 2000s, international interventions authorized by the UN took a wider variety of forms. The UN mission in the Sierra Leone Civil War of 1991–2002 was supplemented by British Royal Marines, and the invasion of Afghanistan in 2001 was overseen by NATO.[64] In 2003, the United States invaded Iraq despite failing to pass a UN Security Council resolution for authorization, prompting a new round of questioning of the organization's effectiveness.[65] Under the eighth Secretary-General, Ban Ki-moon, the UN intervened with peacekeepers in crises such as the War in Darfur in Sudan and the Kivu conflict in the Democratic Republic of Congo and sent observers and chemical weapons inspectors to the Syrian Civil War.[66] In 2013, an internal review of UN actions in the final battles of the Sri Lankan Civil War in 2009 concluded that the organization had suffered "systemic failure".[67] In 2010, the organization suffered the worst loss of life in its history, when 101 personnel died in the Haiti earthquake[68]
The Millennium Summit was held in 2000 to discuss the UN's role in the 21st century.[69] The three day meeting was the largest gathering of world leaders in history, and culminated in the adoption by all member states of the Millennium Development Goals (MDGs), a commitment to achieve international development in areas such as poverty reduction, gender equality, and public health. Progress towards these goals, which were to be met by 2015, was ultimately uneven. The 2005 World Summit reaffirmed the UN's focus on promoting development, peacekeeping, human rights, and global security.[70]
The Sustainable Development Goals were launched in 2015 to succeed the Millennium Development Goals.[71]
In addition to addressing global challenges, the UN has sought to improve its accountability and democratic legitimacy by engaging more with civil society and fostering a global constituency.[72] In an effort to enhance transparency, in 2016 the organization held its first public debate between candidates for Secretary-General.[73] On 1 January 2017, Portuguese diplomat António Guterres, who previously served as UN High Commissioner for Refugees, became the ninth Secretary-General. Guterres has highlighted several key goals for his administration, including an emphasis on diplomacy for preventing conflicts, more effective peacekeeping efforts, and streamlining the organization to be more responsive and versatile to global needs.[74]
[/av_textblock]
[/av_cell_one_half][av_cell_one_half av_uid='av-1odee']
[av_gallery ids='973′ style='big_thumb' preview_size='large' crop_big_preview_thumbnail='avia-gallery-big-crop-thumb' thumb_size='portfolio' columns='3′ imagelink='avianolink noLightbox' link_dest=" lazyload='avia_lazyload' html_lazy_loading='disabled' alb_description=" id=" custom_class=" av_uid='av-kei5wsoh' admin_preview_bg="]
[/av_cell_one_half][/av_layout_row][av_layout_row border=" min_height_percent=" min_height_pc='25' min_height='0′ color='main_color' mobile='av-flex-cells' mobile_breaking=" av-desktop-hide=" av-medium-hide=" av-small-hide=" av-mini-hide=" id=" custom_class=" aria_label=" av_element_hidden_in_editor='0′ av_uid='av-4vy4i']
[av_cell_one_half vertical_align='top' padding='30px,30px,30px,120px' background='bg_color' background_color=" background_gradient_color1=" background_gradient_color2=" background_gradient_direction='vertical' src=" attachment=" attachment_size=" background_attachment='scroll' background_position='top left' background_repeat='no-repeat' link=" linktarget=" link_hover=" mobile_display=" custom_class=" av_uid='av-4fnuy']
[av_hr class='invisible' icon_select='yes' icon='ue808′ font='entypo-fontello' position='center' shadow='no-shadow' height='10' custom_border='av-border-thin' custom_width='50px' custom_margin_top='30px' custom_margin_bottom='30px' custom_border_color=" custom_icon_color=" id=" custom_class=" av_uid='av-3tjsm' admin_preview_bg="]
[av_heading heading='Whereby:-' tag='h3′ style='blockquote modern-quote' subheading_active='subheading_above' show_icon=" icon='ue800′ font=" size='40' av-medium-font-size-title=" av-small-font-size-title=" av-mini-font-size-title=" subheading_size=" av-medium-font-size=" av-small-font-size=" av-mini-font-size=" icon_size=" av-medium-font-size-1=" av-small-font-size-1=" av-mini-font-size-1=" color='custom-color-heading' custom_font='#0058aa' icon_color=" margin=" margin_sync='true' padding='10' icon_padding='10' link=" link_target=" id=" custom_class=" av_uid='av-kfgn0ykx' admin_preview_bg="]
Whitehall's
[/av_heading]
[av_hr class='short' icon_select='yes' icon='ue808′ font='entypo-fontello' position='left' shadow='no-shadow' height='50' custom_border='av-border-thin' custom_width='50px' custom_margin_top='30px' custom_margin_bottom='30px' custom_border_color=" custom_icon_color=" id=" custom_class=" av_uid='av-2yia2′ admin_preview_bg="]
[av_textblock size='16' av-medium-font-size=" av-small-font-size=" av-mini-font-size=" font_color=" color=" id=" custom_class=" av_uid='av-28i3a' admin_preview_bg="]
Promote the truth about the Africans who took the good news about Christ Jesus with the Holy Spirit to Africa thousands of years ago before the Europeans colonized Africa.
Promote every area of Agricultural
Promote African Education and Research.
4.Promote Caribbean African Chamber of Commerce
Promote Trade and Investment and friendly relations amongst the Diaspora and their Countries and Africa
Promote Scientific, technological exchange between the Diaspora and their countries
Promote educational Scholarships for both Africans Diaspora and Africans in the continent.
Promote Sports, art, music and culture within the African Diaspora
Promote African History and Philosophers
10.Promote African Scholars, Engineers, Scientists and Medicine
Promote African Foods within the Diaspora
Promote African Clothes within the Diaspora
Advocate visa free travels for both Africans and Africans in Diaspora; encourage African Diaspora into making Investments in Africa;
Explore possibilities of establishing commercial Banks to empower young Africans in business, science and technology.
The organization will achieve its main objectives of sustainable development and poverty reduction in African and African Diaspora States, by encouraging greater integration into the world's economy.
Partnership is also extended to new actors such as civil society, private sector, trade unions and local authorities. These will be involved in consultations and planning of national development strategies, providing them with access to financial resources and getting involved in the implementation of programmes with AU, UN, CARICOM, OAS,  ECOWAS, EU and many others.
Thus in addition, the Caribbean-OAS African Diaspora Affairs'  (COADA) mission is to strengthen Caribbean-OAS African Diaspora employees working anywhere through professional development, career management, and mentoring that will enable retention and growth. The forum also works to strengthen the bonds between Employers and its local African-Caribbean-Latin  American communities. The Organisations is made up of highly qualified Diplomats, International Lawyers, Administrators, Historians, Journalists, Civil Right Activists and Educators.
[/av_textblock]
[/av_cell_one_half][av_cell_one_half av_uid='av-1odee']
[av_gallery ids='227,226,225′ style='big_thumb' preview_size='large' crop_big_preview_thumbnail='avia-gallery-big-crop-thumb' thumb_size='portfolio' columns='3′ imagelink='avianolink noLightbox' link_dest=" lazyload='avia_lazyload' html_lazy_loading='disabled' alb_description=" id=" custom_class=" av_uid='av-kei5wsoh' admin_preview_bg="]
[/av_cell_one_half]
[/av_layout_row]
[av_section min_height=" min_height_pc='25' min_height_px='500px' padding='default' custom_margin='0px' custom_margin_sync='true' color='main_color' background='bg_color' custom_bg='#0058aa' background_gradient_color1=" background_gradient_color2=" background_gradient_direction='vertical' src='https://web.golive.space/wp-content/uploads/2020/08/transparent-parralax-1500×430.png' attachment='146′ attachment_size='featured' attach='scroll' position='top left' repeat='no-repeat' video=" video_ratio='16:9′ overlay_opacity='0.5′ overlay_color=" overlay_pattern=" overlay_custom_pattern=" shadow='no-border-styling' bottom_border='no-border-styling' bottom_border_diagonal_color='#333333′ bottom_border_diagonal_direction=" bottom_border_style=" custom_arrow_bg=" id=" custom_class=" aria_label=" av_element_hidden_in_editor='0′ av_uid='av-2dfhe']
[av_two_third first min_height=" vertical_alignment=" space=" row_boxshadow=" row_boxshadow_color=" row_boxshadow_width='10' custom_margin=" margin='0px' mobile_breaking=" border=" border_color=" radius='0px' padding='0px' column_boxshadow=" column_boxshadow_color=" column_boxshadow_width='10' background='bg_color' background_color=" background_gradient_color1=" background_gradient_color2=" background_gradient_direction='vertical' src=" background_position='top left' background_repeat='no-repeat' highlight=" highlight_size=" animation=" link=" linktarget=" link_hover=" title_attr=" alt_attr=" mobile_display=" id=" custom_class=" aria_label=" av_uid='av-1owou']
[av_heading heading='Post-Cold War' tag='h3′ style='blockquote modern-quote' subheading_active=" show_icon=" icon='ue800′ font=" size='36' av-medium-font-size-title=" av-small-font-size-title=" av-mini-font-size-title=" subheading_size=" av-medium-font-size=" av-small-font-size=" av-mini-font-size=" icon_size=" av-medium-font-size-1=" av-small-font-size-1=" av-mini-font-size-1=" color='custom-color-heading' custom_font='#ffffff' icon_color=" margin=" margin_sync='true' padding='10' icon_padding='10' link=" link_target=" id=" custom_class=" av_uid='av-kfhw0qgf' admin_preview_bg="][/av_heading]
[/av_two_third][av_one_third min_height=" vertical_alignment=" space=" row_boxshadow=" row_boxshadow_color=" row_boxshadow_width='10' custom_margin=" margin='0px' mobile_breaking=" border=" border_color=" radius='0px' padding='0px' column_boxshadow=" column_boxshadow_color=" column_boxshadow_width='10' background='bg_color' background_color=" background_gradient_color1=" background_gradient_color2=" background_gradient_direction='vertical' src=" background_position='top left' background_repeat='no-repeat' highlight=" highlight_size=" animation=" link=" linktarget=" link_hover=" title_attr=" alt_attr=" mobile_display=" id=" custom_class=" aria_label=" av_uid='av-14ltq']
[av_button label='Contact us today!' icon_select='yes-right-icon' icon='ue885′ font='entypo-fontello' link='page,35′ link_target=" size='x-large' position='center' label_display=" title_attr=" color_options=" color='theme-color-subtle' custom_bg='#444444′ custom_font='#ffffff' btn_color_bg='theme-color' btn_custom_bg='#444444′ btn_color_bg_hover='theme-color-highlight' btn_custom_bg_hover='#444444′ btn_color_font='theme-color' btn_custom_font='#ffffff' id=" custom_class=" av_uid='av-keilu912′ admin_preview_bg="]
[/av_one_third][/av_section]