International Court of Justice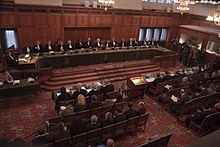 The court ruled that Kosovo's unilateral declaration of independence from Serbia in 2008 did not violate international law.
The International Court of Justice (ICJ), located in The Hague, in the Netherlands, is the primary judicial organ of the UN. Established in 1945 by the UN Charter, the Court began work in 1946 as the successor to the Permanent Court of International Justice. The ICJ is composed of 15 judges who serve 9-year terms and are appointed by the General Assembly; every sitting judge must be from a different nation.
It is based in the Peace Palace in The Hague, sharing the building with the Hague Academy of International Law, a private centre for the study of international law. The ICJ's primary purpose is to adjudicate disputes among states. The court has heard cases related to war crimes, illegal state interference, ethnic cleansing, and other issues.[109] The ICJ can also be called upon by other UN organs to provide advisory opinions.[107] It is the only organ that is not located in New York.