Founding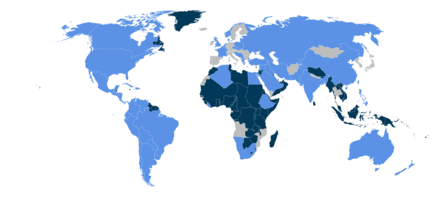 The UN in 1945: founding members in light blue, protectorates and territories of the founding members in dark blue
The UN was formulated and negotiated among the delegations from the Allied Big Four (the United States, the United Kingdom, the Soviet Union and China) at the Dumbarton Oaks Conference from 21 September 1944 to 7 October 1944 and they agreed on the aims, structure and functioning of the UN.
After months of planning, the UN Conference on International Organization opened in San Francisco, 25 April 1945, attended by 50 governments and a number of non-governmental organizations involved in drafting the UN Charter.
"The heads of the delegations of the sponsoring countries took turns as chairman of the plenary meetings: Anthony Eden, of Britain, Edward Stettinius, of the United States, T. V. Soong, of China, and Vyacheslav Molotov, of the Soviet Union. At the later meetings, Lord Halifax deputized for Mister Eden, Wellington Koo for T. V. Soong, and Mister Gromyko for Mister Molotov."[27] The UN officially came into existence 24 October 1945, upon ratification of the Charter by the five permanent members of the Security Council—France, the Republic of China, the Soviet Union, the UK and the US—and by a majority of the other 46 signatories.[28]
The first meetings of the General Assembly, with 51 nations represented,[b] and the Security Council took place in Methodist Central Hall, Westminster, London beginning on 10 January 1946.  Debates began at once covering topical issues including the presence of Russian troops in Iranian Azerbaijan, Great Britain's forces in Greece and within days the first veto was cast.
The General Assembly selected New York City as the site for the headquarters of the UN, construction began on 14 September 1948 and the facility was completed on 9 October 1952. Its site—like UN headquarters buildings in Geneva, Vienna, and Nairobi—is designated as international territory. The Norwegian Foreign Minister, Trygve Lie, was elected as the first UN Secretary-General.[28]