Culture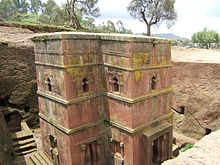 The rock-hewn Church of Saint George in Lalibela, Ethiopia is a UNESCO World Heritage Site.
Some aspects of traditional African cultures have become less practised in recent years as a result of neglect and suppression by colonial and post-colonial regimes. For example, African customs were discouraged, and African languages were prohibited in mission schools. Leopold II of Belgium attempted to "civilize" Africans by discouraging polygamy and witchcraft
Obidoh Freeborn posits that colonialism is one element that has created the character of modern African art.[173] According to authors Douglas Fraser and Herbert M. Cole, "The precipitous alterations in the power structure wrought by colonialism were quickly followed by drastic iconographic changes in the art."  Fraser and Cole assert that, in Igboland, some art objects "lack the vigor and careful craftsmanship of the earlier art objects that served traditional functions.[174] Author Chika Okeke-Agulu states that "the racist infrastructure of British imperial enterprise forced upon the political and cultural guardians of empire a denial and suppression of an emergent sovereign Africa and modernist art."
Editors F. Abiola Irele and Simon Gikandi comment that the current identity of African literature had its genesis in the "traumatic encounter between Africa and Europe."[176] On the other hand, Mhoze Chikowero believes that Africans deployed music, dance, spirituality, and other performative cultures to (re)asset themselves as active agents and indigenous intellectuals, to unmake their colonial marginalization and reshape their own destinies." [177]
There is now a resurgence in the attempts to rediscover and revalue African traditional cultures, under such movements as the African Renaissance, led by Thabo Mbeki, Afrocentrism, led by a group of scholars, including Molefi Asante, as well as the increasing recognition of traditional spiritualism through decriminalization of Vodou and other forms of spirituality.
Visual art and architecture
African art and architecture reflect the diversity of African cultures. The region's oldest known beads were made from Nassarius shells and worn as personal ornaments 72,000 years ago.[178] The Great Pyramid of Giza in Egypt was the world's tallest structure for 4,000 years, until the completion of Lincoln Cathedral around the year 1300. The stone ruins of Great Zimbabwe are also noteworthy for their architecture, as are the monolithic churches at Lalibela, Ethiopia, such as the Church of Saint George.
Music and dance
Main articles: Music of Africa and African dance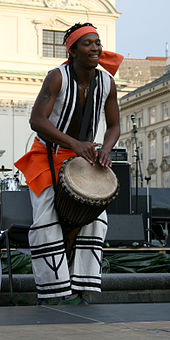 A musician from South Africa
Egypt has long been a cultural focus of the Arab world, while remembrance of the rhythms of sub-Saharan Africa, in particular West Africa, was transmitted through the Atlantic slave trade to modern samba, blues, jazz, reggae, hip hop, and rock. The 1950s through the 1970s saw a conglomeration of these various styles with the popularization of Afrobeat and Highlife music. Modern music of the continent includes the highly complex choral singing of southern Africa and the dance rhythms of the musical genre of soukous, dominated by the music of the Democratic Republic of the Congo. Indigenous musical and dance traditions of Africa are maintained by oral traditions, and they are distinct from the music and dance styles of North Africa and Southern Africa. Arab influences are visible in North African music and dance and, in Southern Africa, Western influences are apparent due to colonization.
Sports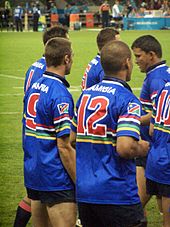 Fifty-four African countries have football (soccer) teams in the Confederation of African Football. Egypt has won the African Cup seven times, and a record-making three times in a row. Cameroon, Nigeria, Senegal, Ghana, and Algeria have advanced to the knockout stage of recent FIFA World Cups. South Africa hosted the 2010 World Cup tournament, becoming the first African country to do so.
Cricket is popular in some African nations. South Africa and Zimbabwe have Test status, while Kenya is the leading non-test team and previously had One-Day International cricket (ODI) status (from 10 October 1997, until 30 January 2014). The three countries jointly hosted the 2003 Cricket World Cup. Namibia is the other African country to have played in a World Cup. Morocco in northern Africa has also hosted the 2002 Morocco Cup, but the national team has never qualified for a major tournament. Rugby is a popular sport in South Africa, Namibia, and Zimbabwe.
Religion
Main article: Religion in Africa
See also: African divination
Africans profess a wide variety of religious beliefs, and statistics on religious affiliation are difficult to come by since they are often a sensitive topic for governments with mixed religious populations.[179][180] According to the World Book Encyclopedia, Islam and Christianity are the two largest religions in Africa. According to Encyclopædia Britannica, 45% of the population are Christians, 40% are Muslims, and 10% follow traditional religions. A small number of Africans are Hindu, Buddhist, Confucianist, Baha'i, or Jewish. There is also a minority of people in Africa who are irreligious.

The Holy Trinity Cathedral, in Addis Ababa, Ethiopia

The Great Mosque of Kairouan, Tunisia, founded in 670, is the oldest mosque in North Africa;[181]