COADA and ACLADA and New Future Foundation
Here is where in 2013 we at COADA and FAU meet Queen Mother Dr Delois Blakely (PhD in Education) and Chairwoman of New Future Foundation.  African Union called consultation meeting with the African Diaspora on the African Union Agenda 2063 – New York, United States of America Oct.08.2013 – Oct.10.2013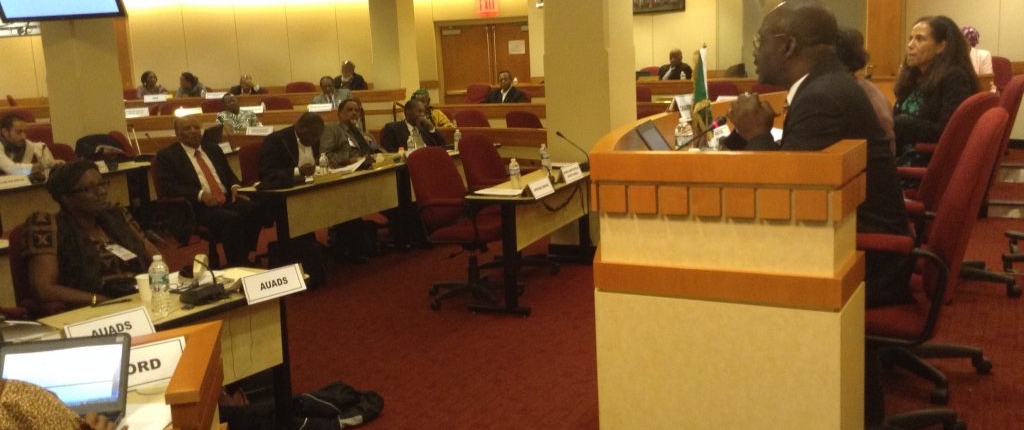 COADA was civil society in the Universal Periodic Review of the 2015 OSA, Caribbean of Caribbean, OAS, Africa in 2015 through its partnerships
Here is our original of our work  based on the Universal Periodic Review which "has great potential to promote and protect human rights in the darkest corners of the world." – Ban Ki-moon, UN Secretary-General. The Universal Periodic Review (UPR) is a unique process which involves a review of the human rights records of all UN Member States.
The ten areas to be commented on that we proposed a $5T solution for the statements set forth in the interagency response set forth by the US State Department to the 2015 United Nations Universal Periodic Review of the United States of America in these subject headings detailed by the US State Dept. in response to comments around the world on the state of Human Rights in the #USA:
(1) civil rights, ethnic, and racial discrimination;
(2) criminal justice issues;
(3) indigenous issues;
4) national security;
(5)immigration;
(6) labor and trafficking;
(7) economic, social and cultural rights and measures;
(8) the environment;
(9)domestic implementation of human rights, and;
(10)treaties and international human rights mechanisms.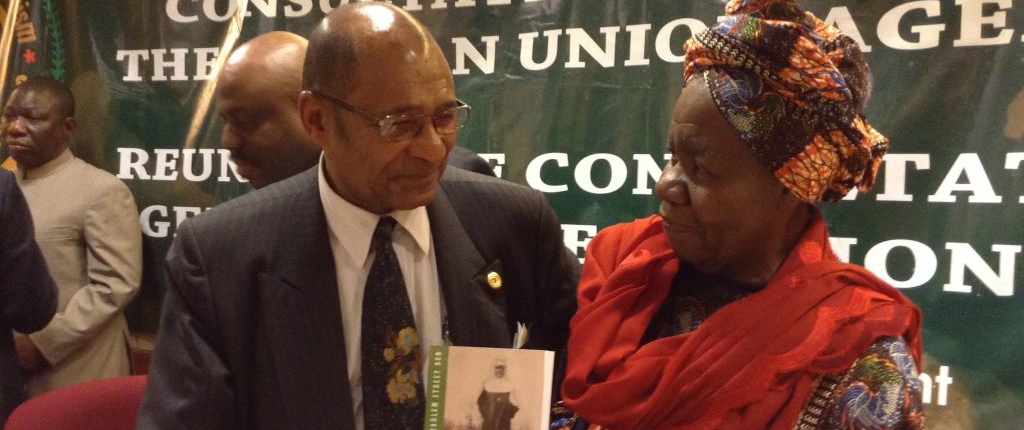 100 Black Men of OAS/Caribbean
Working to improve the quality of life within the African OAS community. Based in  George Town
The African American Forum, a non-profit arts and cultural organization, is committed to developing programs that support and highlight the artistic, cultural and educational achievements of African OAS and North Americans.  By sharing experiences reflective of African OAS and North American culture, we encourage individuals to embrace diversity and, in doing so, create a greater culture.  A united culture. We place our emphasis on unity in the word Community!
African American Planning Commission (AAPC)
Addresses issues of homelessness (domestic violence, HIV/AIDS, housing shortage, and unemployment) within the communities in which we live and serve. Based in Brooklyn, New York
Uses numerous tools, including the game of chess, to promote self-esteem, responsibility, and analytical thinking amoung at-risk kids. Based in Atlanta, Georgia
Black Culinarians Alliance (BCA)
The Alliance is a nonprofit organization incorporated in the state of Nevada. Its membership is made up of Chefs and others in the Culinary industry. Chef T.E. Williams founded the organization in Las Vegas, Nevada in 1991. He formed the organization to help educate and encourage minority chefs to aspire to and achieve more prestigious positions in the industry Based in Nevada
 Blacks In Government (BIG)
Promotes equity in all aspects of life, and excellence in public service.Based in Washington, DC
Black Wall Street Merchants Association
Black Wall Street districts can be recognized as an urban area that is a thriving center of business, industry, and culture and is one commercial strip that has 50%-70% or more businesses owned by African Americans. This will enable local organizers and BWS district leaders to focus on what they are doing within their potential district. Leaders consider the people to be involved. District president's make sure the group is balanced and no special interests dominate.
We BELIEVE the strength of our nation lies with the individual and that each person's dignity, freedom, ability and responsibility must be honored. We BELIEVE in equal rights, equal justice and equal opportunity for all, regardless of race, creed, sex, age or disability. We BELIEVE free enterprise and encouraging individual initiative have brought this nation opportunity, economic growth and prosperity.
We BELIEVE government must practice fiscal responsibility and allow individuals to keep more of the money they earn. We BELIEVE the proper role of government is to provide for the people only those critical functions that cannot be performed by individuals or private organizations and that the best government is that which governs least.
We BELIEVE Americans must retain the principles that have made us strong while developing new and innovative ideas to meet the challenges of changing times. We BELIEVE Americans value and should preserve our national strength and pride while working to extend peace,  freedom and human rights throughout the world. Finally, We BELIEVE the Republican Party is the best vehicle for translating these ideals into positive and successful principles of government
The National Congress of Black American Indians (NCBAI)
The National Congress of Black American Indians (NCBAI) is an organized body of Native American people with African ancestry and Black people with Native American ancestry of various tribes and nations.  NCBAI serves as a voice for Native American people with African ancestry and Spanish speaking Indigenous people of the western hemisphere as a political entity and active body for the rights of Native people throughout the Americas.
A family organization that provides cultural, social, civic and recreational activities that stimulate and expand the mind to enhance life.
Based in Washington, DC
Greater Atlanta Economic Alliance 
The Alliance has since become the premier communication, outreach, technical assistance and training program geared towards Atlanta's construction community. These four mechanisms have been instrumental in preparing small, female and minority-owned businesses for bidding and working on large-scale projects in the construction and transportation industries.
The Georgia Association of Black Women Attorneys
The Georgia Association of Black Women Attorneys ("GABWA") was founded in 1981 by a group of African American women who sought to form a voluntary bar organization that would 1) focus on women and children's issues, 2) increase black female representation in the judiciary and in public offices, and 3) take a proactive stance on political issues. Today, GABWA has an active membership of women and men who strive each day to fulfill the organization's mission: to nurture, support and galvanize the power of Black women attorneys, advocate for women and children and empower our communities. GABWA is open to all persons, regardless of race or sex.
Provides educational opportunities to outstanding young women of color and to develop the whole woman mind, body, and spirit.
Based in Upper Marlboro, Maryland
National Action Council For Minorities in Engineering (NACME)
To ensure American competitiveness in a flat world by leading and supporting the national effort to expand U.S. capability through increasing the number of successful African American, American Indian, and Latino young women and men in science, technology, engineering and mathematics (STEM) education and careers.
Based in White Plains, New York
National Association of the Advancement of Colored People (NAACP)
The mission of the National Association for the Advancement of Colored People (NAACP) is to ensure the political, educational, social, and economic equality of rights of all persons and to eliminate race-based discrimination. Based in Baltimore, Maryland
National Association of Black Hotel Owners, Operators and Developers (NABHOOD)
Works to increase the number of African-Americans owning, developing, managing and operating hotels; increase vendor opportunities & executive level jobs for minorities. Based in Fort Lauderdale, Floria
National Association of Black Accountants (NABA)
The National Association of Black Accountants (NABA, Inc.), is a nonprofit membership association dedicated to bridging the opportunity gap for people of color in the Accounting, Finance, Consulting, Information Technology and other related business professions. Representing more than 200,000 people of color in these fields, NABA, Inc. advances people, advances careers and advances the mission by providing education, resources and meaningful career connections to both professional and student members, fulfilling the principle of our motto: Lifting As We Climb. This is made possible, in part, through the support of our corporate partners and the strength of our volunteer network.Based in Greenbelt, Maryland
The National Association of Black Scuba Divers (NABS)
NABS mission is to create a network of people and resources that provide educational experiences that enhance and promote an appreciation of diving and an awareness of the aquatic environment.
National Association of Black Storytellers (NABS)
Promotes and perpetuates the art of Black Storytelling, which embodies the history, heritage, and culture of African Americans.Based in Baltimore, Maryland
National Association of Blacks In Criminal Justice (NABCJ)
Our non-profit association provides leaders dedicated to improving the administration of criminal justice. Created in 1974, the National Association of Blacks in Criminal Justice (NABCJ) has made a goal of achieving equal justice for blacks and other minorities. Our members consist of criminal justice professionals such as those in law enforcement, institutional and community corrections, courts, social services, academia, religious and other community-based interests as well as criminal justice students and community leaders. Join us and discover a multi-ethnic, non-profit, nonpartisan organization that is dedicated to improving the justice system.Based in Durham, North Carolina
National Association of Black Veterans (NABVETS)
On an ongoing basis, the National Association for Black Veterans, Inc. will provide strategic advocacy on behalf of its membership with Congress, the Federal Administration, State Administrations and other agencies and organizations. NABVETS will provide personal advocacy on behalf of veterans seeking claims against the United States Department of Veterans Affairs; advocacy for youth in all matters required for successful passage into adulthood; advocacy on behalf of families; with community involvement, provide advocacy in creating positive lifestyles for veterans; and to generate and preserve the historical record.
National Association of Market Developers (NAMD)
Defunct but FAU should look to revise it. In 1954, the NAMD was incorporated in the District of Columbia by Moss H Kendrix, Wendell P. Alston, Esso Standard Oil Company, Alvin J. Talley, H. Naylor Fitzhugh, Howard University Marketing Professor, an associate of the Moss Kendrix Organization who became vice president of PepsiCo, and Raymond S. Scruggs, American Telephone and Telegraph Company. It cultivated the aspects of the Black experience that can produce results for both the African-American community and institutions, private and public.
Based In Plainfield, New Jersey
National Black Child Development Institute (NBCDI)
Improves and protects the lives of African American children. Based in Washington, DC
National Registry of Black Baby Names
Largest online collection of names that African American and African parents can choose for their unborn child.
Based in Columbus, Ohio.
National Society of Black Engineers (NSBE)
One of the largest student-managed organizations in the country that focuses on increasing the number of Black engineers who excel academically and in the workplace.Based in Fairfax, Virginia
National Urban League (NUL)
The nation's oldest and largest community- based movement devoted to empowering African Americans to enter the economic and social mainstream. Based in New York, New York
New Future Foundation (NFF)
We aim to empower our communities and neighbors, encourage each other to make a change, inspire those around us to try something new through educational enhancement courses, GED subsidization, and cultural outreach programs for youth, adults, and their families within the United Nations and are a UN Civil Society Partner with FAU.
STAND America is a non-profit organization that reaches across racial and cultural lines to bring people together around the foundational principles that made America great. STAND America engages the community through town hall meetings, conference calls, and STAND America organizers to promote educational choice, to strengthen families, and to support entrepreneurship. In 2014, we formed MINISTERS TAKING A STAND ('MTS') to unite Pastors and Christian leaders of all races and backgrounds to fight for the Constitution, our biblical heritage and values, and the American vision of "one nation under God, indivisible with liberty and justice for all." Since its inception, hundreds of black, white, and Hispanic ministers from across the country have joined us, making MTS a visible testament to interracial and interdenominational unity. If you are a pastor or Christian leader, join us. Lets work together to save America.
World African Diaspora Union (WADU)
WADU is a Pan African organization consistent with and dedicated to the historic work of Pan Africanism. Its focus is on unifying and empowering the African Diaspora politically, culturally and economically, as an integral part of Africa. The African Diaspora is mainly those persons of African descent dispersed from Africa into Europe, Asia and the Americas during Arab and European commercial slave raids. It also consisted of those persons who voluntary migrated from Africa in the 20th and 21st century. The African population in the Western Hemisphere is about 250 million persons in South America (mainly Brazil & Columbia), in North America (USA), the Caribbean and in Europe. WADU has a Diaspora High Council of Elders (led by a Chair), a Diaspora Executive Council (led by a President) and State Councils. Each State council (i.e. Georgia/Jamaica/France) is led by Co-Chairs (Male/Female) and advised by a State Chief Elder.
PLEASE ADD DROP DOWN MANUE HERE MANUE
The Caribbean-OAS African Diaspora Affairs  (COADA) mission is to strengthen Caribbean-OAS African Diaspora  employees working anywhere through professional development, career management, and mentoring that will enable retention and growth. The Organisation also works to strengthen the bonds between Employers and its local African-Caribbean-Latin  American communities.